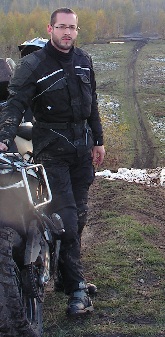 Welcome!
Travelling is the best thing in life for me, followed by riding my motorbike.
So why not combining both together?!
My first big journey was in 2004. It was still without a bike though. By foot, car, camper van, bus, train, air plane and with a big thumb up I travelled all over Australia.
After being home for a couple of years I finally got the chance to start up on my lost lasting dream. Riding a motorbike! For my 30th birthday I got myself a great gift and got the drivers license.
Inspired by movies like "Long Way Round" and "Long Way Down" with Charley Boorman and Ewan McGregor, I choose the BMW to be my bike. I got the F800 GS because riding off-road is going to be a big part of my driving. For me this bike is the perfect mixture of driving comfortable on roads as well as handling it nice and easy in the fields.
I would love to share my experiences with you. The reports and pictures you will find here may give you some tips and inspiration and of course make you start dreaming of your own trips.
Please have fun and enjoy it!
Luz